Atomic Allies Calls to Action #1 – Communication
Article Author:
January 31, 2022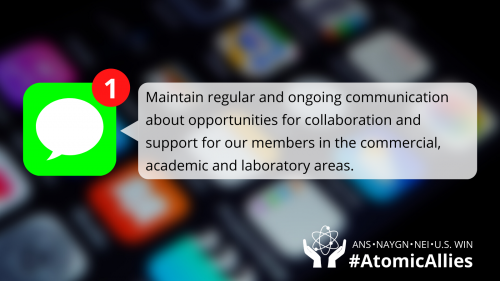 Since the execution of our MOU in 2020, the Atomic Allies (ANS, NAYGN, NEI, and U.S. WIN) are excited to share we have developed a consistent operating rhythm in 2020/2021. Every 6 weeks, this group comes together to discuss ideas on how we can collaborate and support our members in new and exciting ways. Even through these virtual times, we have remained committed to working in harmony by leveraging our combined networks to further accelerate the initiatives of this MOU.  That being said, we feel it's important to remind the industry of the intent of this collaboration. Throughout 2022, the Atomic Allies will be rolling out a series of communications around the 9 calls to action, the foundation of this MOU. We encourage you as members of U.S. WIN to reach out to your respective Chairs, Regional Leads, and Steering Committee members on ideas we can better serve the industry we live and work in every day.
Stay tuned for news and events and, more importantly, ways you personally can become a part of the Atomic Allies!