Nuclear Executives of Tomorrow
Executive Leadership Program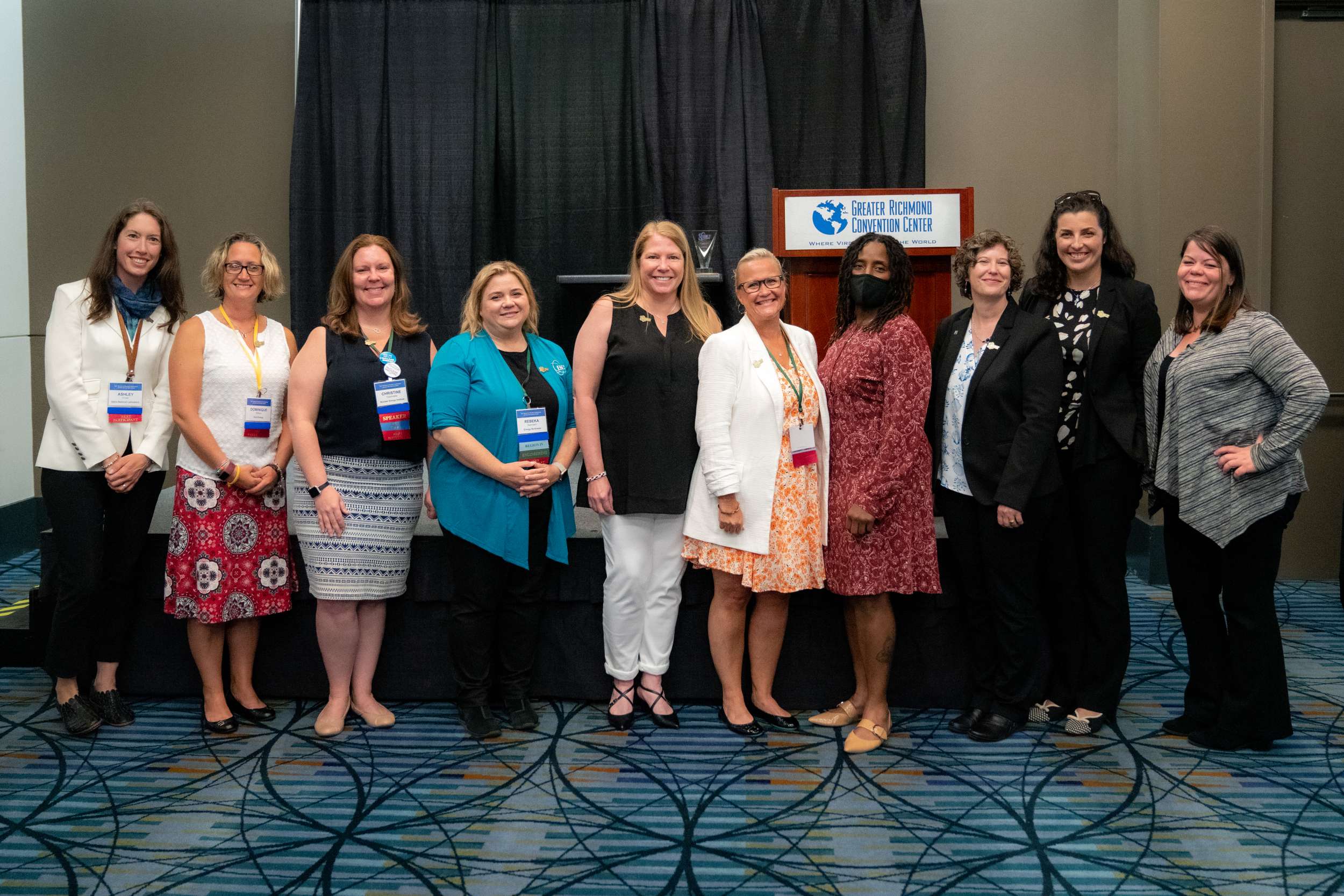 The Nuclear Executives of Tomorrow (NEXT) program was created by U.S. Women in Nuclear in conjunction with the Nuclear Energy Institute and nuclear executives across our industry. The collaborators determined there was a need for executive-level leadership development focused on preparing the best and brightest individuals for future positions of greater strategic leadership within their respective organizations and the industry. The program supports highly capable female leaders primed for executive-level advancement. It aims to provide challenging experiential opportunities and create a tight-knit professional network focused on helping each other succeed. The expected participant outcome is development within executive leadership competencies, broadened strategic perspective, a well-established professional network, and an active industry-wide role in supporting a future that is both diverse and sustainable. An overview of the 2023-2024 NEXT program can be found here.
Please visit The WINning Edge newsletter for NEXT quarterly updates and event announcements.
About Us
In partnership with Intend to Create Coaching & Consulting LLC, U.S. Women in Nuclear created a Leadership Cohort program in 2019 that has blossomed into the Nuclear Executives of Tomorrow (NEXT) executive immersive leadership program. The 12-month long program is produced by a planning and oversight team of industry leaders who lend their knowledge and hands-on support. NEXT has graduated three cohorts with a fourth whose journey began in summer 2022, each with 12 to 14 members. At least 60 % of each graduated class has received promotions during or within 12 months of completing the program.
"Any plans to make it continue beyond our formal year would bring me joy!"
–  NEXT20 Cohort Member
Current Class

NEXT24
Hannah Arrington
Janice Cruz
Lisa Davies
Bonnie Hong
Karen Kessler
Ashley Kovacs
Rose Montgomery
Sarah Ortman
Stephenie Pyle
Emily Tarle
Liz Williford
Michelle Zietlow-Miller
Alumni
NEXT23
Shannon Bragg-Sitton
Amanda Brigman
Rosanne Carmean
Bobbi Jo Halvorson
Alicia Jenkins
Shelly Kugler
Putri Dwi Kusumawati Murray
Vanessa Locke
Amy McMartin
Fabricia Pineiro Tresierra
Erin Searcy
Desiree Wolfgramm
Alexandra Zelaski
Cohort Capstone: See It to Imagine It Toolkit
NEXT22
Christine Csizmadia
Ashley Finan
Danielle Fuson
Katherine Gil
Jenny Hageman
Shannon McArdle
Shannon Rafferty-Czincila
Rebeka Seemann
Dawn Sileo
Lashawna Stokes
Dominique Wilson
Jennifer Yarbrough

Cohort Capstone: A Culture of Belonging Toolkit
NEXT21

Susan Baier
Denise Brandon
Bonnie Bryant
Leah Crider
Melissa Driscoll
Jean Fleming
Anna Krause
Deborah McBreen
Renee Meeks
Mary Pietrzyk
Heather Winn
Fatma Yilmaz

Cohort Capstone: @NukeBoss, Nuclear Mentoring Instagram page
NEXT20
Laura Basta
Amanda Donges
Kelly Ferneau
Nicole Flippin
Erin Henderson
Lisa Hilbert
Kendra Hullum-Lawson
Christine Kenny
Norha Z. Plumey
Danielle Ramaley
Cristina Reyff
Rebecca Salvadore

Cohort Capstone: Nuclear Leadership Website
The NEXT program has successes to celebrate–62% of both the NEXT20 and NEXT21 cohorts have been promoted and recognized for their leadership. Join us in congratulating these NEXT change-makers for their recent achievements:
Laura Basta, Robinson Site Vice President, Duke Energy
Bonnie Bryant, River Bend General Manager of Plant Operations at Entergy
Leah Crider, Chief Commercial Officer at Orano Federal Services
Amanda Donges, Vice President Industry Trends and Organizational Learning, INPO
Melissa Driscoll, Engineering Accelerated Development Rotations, PSEG
Kelly Ferneau, Site Vice President of Cook Nuclear Power Plant, American Electric Power
Jean Fleming, Vice President of Regulatory Affairs outside of PSEG
Nicole Flippin, Catawba Site Vice President, Duke Energy
Lisa Hilbert, Site Vice President of North Anna Power Station, Dominion Energy
Anna Kraus, Senior Site Project Manager at Exelon Nuclear
Deborah McBreen, Director of Organization Performance and Regulatory at Exelon Nuclear
Renee Meeks, Vice President of Talent & Culture at INPO
Christy Kenny Notigan, Vice President Global Talent Management and Diversity & Inclusion at Solenis
Mary Pietrzyk, Director of Origination at NextEra Energy Resources
Norah Plumey-Torres, Clinton General Manager Plant Operations, Exelon Generation
Cristina Reyff, Vice President Corporate Finance, Chief Financial & Risk Officer, Energy Northwest
Erin Searcy, Chief Technology Officer, Idaho National Laboratory
Dawn Sileo, Vice President of Independent Oversite, Entergy Nuclear, Inc.
Heather Winn, NOS Director at Luminant
Fatma Yilmaz, Manager of Nuclear Fuel and Analysis at the South Texas Project and has been featured in the U.S. WIN Member Spotlight
Oversight Committee
Tova Anderson, Customer Account Manager at Westinghouse Electric Company
Laura Basta, Robinson Nuclear Site Vice President at Duke Energy
Victoria Dennis, Senior Manager of Nuclear Safety Culture & Regulatory Programs at Tennessee Valley Authority
Kelly Ferneau, Site Vice President of Cook Nuclear Plant at American Electric Power
Ellen Ginsberg, Senior Vice President of General Counsel & Secretary at NEI
Carla Ogunrinde, Founder & Chief Executive Officer of Intend Coaching & Consulting (NEXT Program Director)
Planning Team
Lisa Brattin, Senior Vice President of Workforce Training, Education, and Proficiency and Executive Director of the National Academy of Nuclear Training at the Institute of Nuclear Power Operations
Lisa Clark, Principle Program Manager at the Institute of Nuclear Power Operations
Eunice Deras, Training and Development at Nuclear Energy Institute
Catherine Derkosh, Communication Leader at General Electric-Hitachi Nuclear Energy
Melanie Hernandez, Business Operations Manager at Intend Coaching & Consulting
Christine King, Director of Gateway for Accelerated Innovation in Nuclear at Idaho National Laboratory
Carla Ogunrinde, Founder & Chief Executive Officer of Intend Coaching & Consulting (NEXT Program Director)
Hannah Patenaude, Radiochemistry Ph.D. Candidate at the University of Nevada, Las Vegas & Seaborg Graduate Research Fellow at the Los Alamos National Laboratory
Sarah Risley, Nuclear Training Accreditation Supervisor at Pacific Gas and Electric Company
Patricia Welsh, Senior Program Manager of Industry Leadership and Development at the Institute of Nuclear Power Operations
Nominations for NEXT24 are closed and will open for NEXT25 in January 2024. Please review our Frequently Asked Questions regarding the nomination process, or contact Victoria Dennis at [email protected] or Eunice Deras at [email protected] for questions.