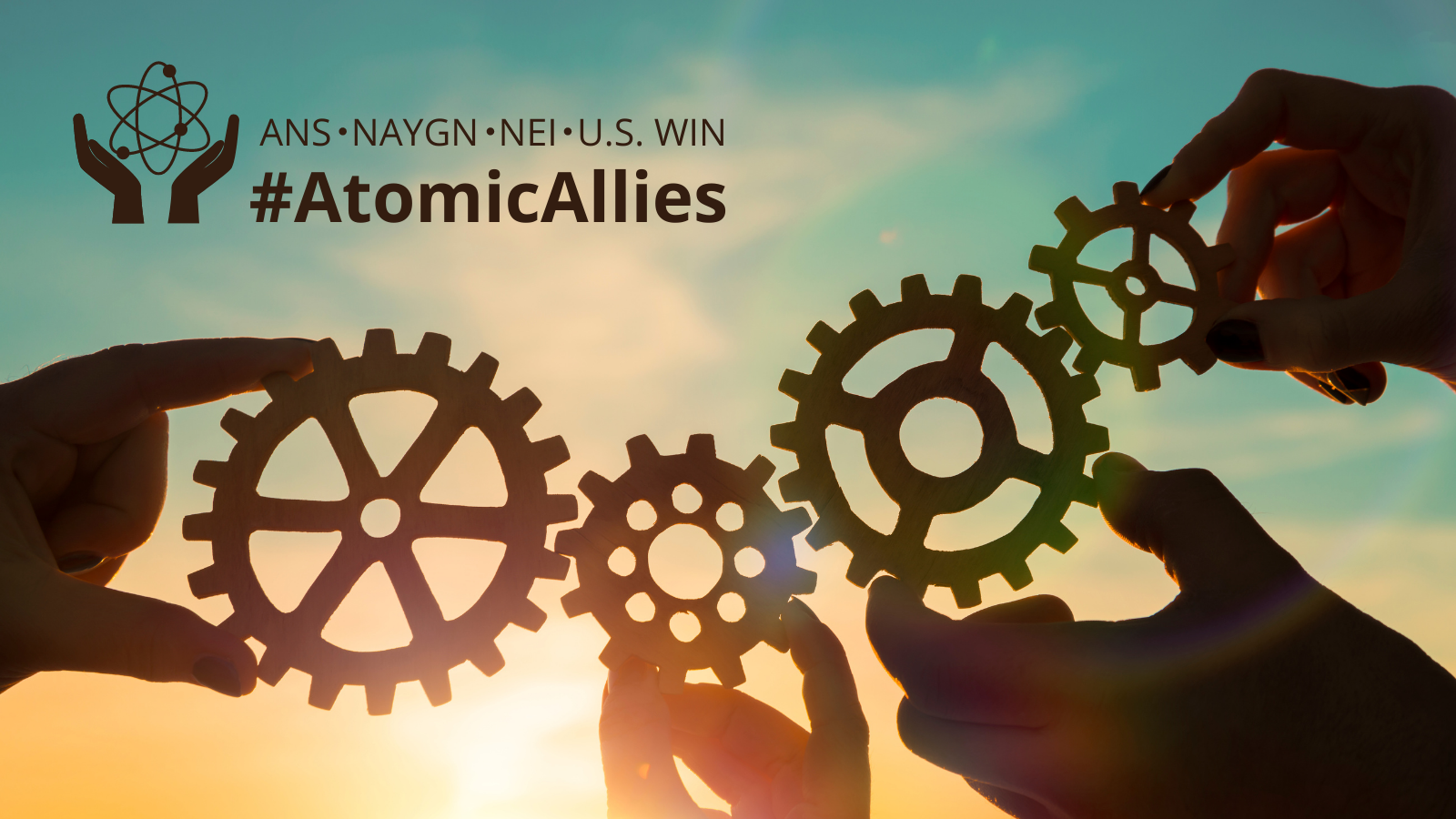 In July of 2020 it was announced that a Memorandum of Understanding (MOU) was executed between Nuclear Energy Institute, the North American Young Generation in Nuclear, the American Nuclear Society, and U.S. Women in Nuclear.  This formal framework is the first of many collaborative efforts to take place in years to come. Since the announcement in 2020, the MOU Committee has been hard at work. First by establishing leads within each of our respective organizations, development of an operating rhythm and fostering an environment that promotes transparency, collaboration, and efficiencies in the initiatives we deploy and in 2021 branding this initiative as The Atomic Allies!  The foundation of the MOU is the 9 "calls to action" which are strategically described herein. Through these pillars, we will continuously announce specific initiatives that will join forces and provide efficient means to promote diversity and inclusion, professional development opportunities and streamline advocacy efforts in the entire industry.
We look forward to supporting nuclear initiatives nationwide as we strengthen our collaboration and provide opportunities for our members. Stay tuned for exciting announcements on how we are collaborating and bringing your ideas to life.
In 2021 the Atomic Allies focused on three objectives that would build a foundation for advancing the nine calls to action, outlined in the MOU.
Establish a core team that meets on a consistent basis where we provide organization updates, opportunities to support industry events and create an open forum to share collaborative ideas.
Brand this initiative/MOU in a manner that would "stick" to the everyday person. This was accomplished when we announced the name #AtomicAllies.
Launch a series of events that deliver on the purpose of the MOU and begin to provide brand recognition to the Atomic Allies name. This was accomplished when we:

Hosted our first virtual event – Empowering Women to Succeed. The event drew in over 400 participants and exceeded our expectations for our first ever event.  The session was moderated by Rosemary Yeremian, an experienced professional with 25 years in the industry, who published the book "Step Up: The Key to Succeeding in Male-Dominated Businesses." Rosemary shared lessons from her book and moderated the discussion around strategies and tactics to help women of these nuclear organizations succeed in their careers. They shared lessons learned, personal experiences, and informative anecdotes. Panelists included Amber Von Ruden, Exelon, NAYGN Past President, Jhansi Kandasamy, GE Hitachi, U.S. WIN Past Chair, Sarah Camba Lynn, Luminant, YMG Executive Committee Treasurer, Kaitlin Rekola, Nuclear Energy Institute and U.S. WIN Steering Committee member, and Juliann Edwards, EnergySolutions, U.S. WIN Vice Chair.
Launched our first national competition – Innovation for Nuclear (I4N). The purpose of the competition is to reward innovative ideas focused on nuclear technologies or application that will contribute to the United Nations Sustainable Development Goals. We received an outpour of interest and submissions and have currently down selected two teams; Green Energy Digital Miners and the Nuclear Trident. The winning team will receive recognition at the ANS-YPC21 Conference, as the winner for I4N – North America and then proceed to compete on a global scale at an international conference in 2022.
If all that was accomplished virtually just imagine what is in store for 2022!
Please visit The WINning Edge newsletter for Atomic Allies quarterly updates and event announcements.
Commemoration video of the MOU signing: