2022 U.S. WIN Award WINners
Article Author:
September 20, 2022
The Awards and Recognition Committee would once again like to congratulate all of the 2022 Award WINners! The those who earned awards are:
U.S. WIN Leadership Award – Susan Korn
U.S. WIN Champion Award – Tim Raush
Small Chapter Overall: Constellation – Three Mile Island
Small Chapter Public Outreach: Constellation – LaSalle
Small Chapter Professional Development: Dominion Energy – North Anna
Small Chapter Networking: Constellation – Kennett Square
Large Chapter Overall: Fermi
Large Chapter Public Outreach: Westinghouse – Pittsburgh
Large Chapter Professional Development: Palo Verde
Large Chapter Networking: GE Hitachi
Student Chapter Overall: Purdue University
U.S. WIN LEADERSHIP AWARD
We would like to again congratulate Susan Korn, Vice President of the Nuclear Project Management and Decommissioning for Constellation, as the 2022 U.S. WIN Leadership Award WINner.
Susan was the first Chair for U.S. Women in Nuclear (WIN) after the transition of leadership from NEI to the industry. In this role she provided strategic vision and support to help develop WIN into its current structure. She led the Steering Committee and helped strengthen the Executive Advisory Counsel and developed the NEXT (Nuclear Executives of Tomorrow) Program. Susan has mentored numerous women and men through the industry, focused on their advancement and professional development. She is a champion of individuals in the industry and actively engages personnel at all levels of the organization to help them succeed.
Susan is an outspoken advocate of nuclear energy and technology and strives to educate members of the public on the importance and value of nuclear. WIN's focus on advocacy and outreach was reinvigorated during Susan's leadership.
Susan was the founder and co-chairperson for the Cantera Chapter for several years. She has sponsored events for both U.S. WIN and NAYGN including outreach at the Aurora Children's Museum and networking at Green Harvest, a local food pantry. Additionally, Susan has sponsored multiple Girl Scout events and she championed efforts to pass clean energy legislation to "save" Byron and Dresden stations. In 2019, Susan organized a Nuclear 101 event for her local school districts STEM teacher's continuing education requirements. As part of this, she funded expenses, including purchase of a Cloud Chamber, obtaining executive speakers and ANS representatives. Each teacher left this event with knowledge and Geiger counters, irradiated marbles and blacklight flashlights.
In 2017 Susan was involved with a visit to Exelon Corporate at the Cantera office for University of Illinois' WIN chapter. Feedback from one of those students now employed by Constellation is as follows: "This experience was invaluable because we were able to interact with women in the industry, including Susan Korn, whose time I know is precious. We were able to hear candid stories about everyone's careers and their ideas about the nuclear industry. As a visitor, I was so happy with the experience." This is just one of the many examples in which Susan has inspired women to enter the industry and just as importantly, to stay in the industry. Susan inspires us all to be good nuclear advocates and support one another.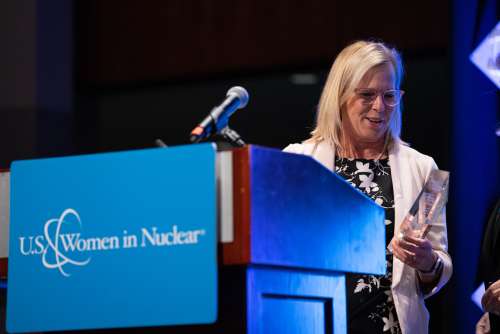 U.S. WIN CHAMPION AWARD
We also would like to congratulate Tim Raush, Chief Nuclear Officer for Tennessee Valley Authority for the being the inaugural WINner of the U.S. WIN Champion Award. Here is a little about Tim:
Tim sits of the U.S. WIN Executive Advisory Council. He is very active in this role and sits on the Oversight Committee for the WIN Diversity, Equity, and Inclusion initiative. Tim also supports the U.S. WIN Nuclear Executives of Tomorrow program. Tim not only nominated and supported two women from TVA to participate in the program, but he has also presented "Running the Nuclear Business" to each cohort that has been through the program.
Tim has provided organizational and financial support in his organization for women and the U.S. WIN organization to successfully provide opportunities and events in all three of the U.S. WIN strategic objectives. This support has been seen by women and the U.S. WIN organization as a whole.
Tim has been described as a consistent go to mentor and advisor for the U.S. WIN Steering Committee's initiatives. He is also said to provide consistent support and at the same time provide appropriate challenges and recommendations.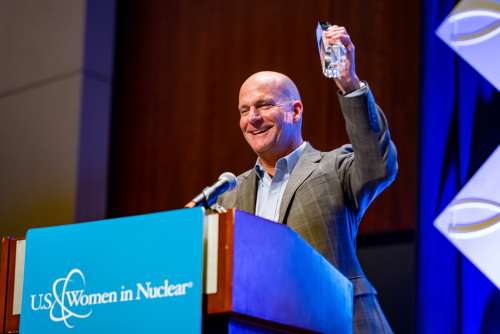 CHAPTER AWARDS
In order to earn an award, Chapters must submit their metrics for all four quarters and within the specified timeframe for each quarter to be considered for an award.  Chapter awards are determined based on the following criteria:  the number of activities held under a particular U.S. WIN core initiative, the number of active chapter members, the number of individuals, and the public groups reached during the event and the quality of the events. The "Overall" Award takes into consideration all three core initiatives.