2019 Region I Workshop in Pittsburgh, PA
Article Author:
March 26, 2020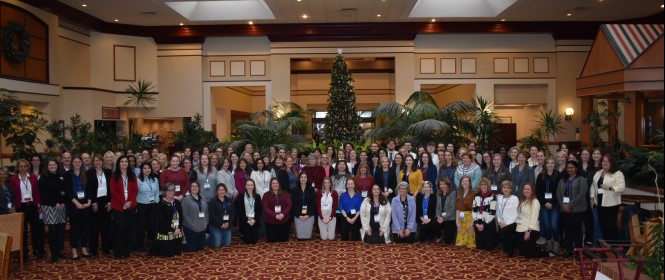 The 2019 Region 1 Workshop "Balance for a Better Nuclear" was held on December 13, 2019 in Cranberry Township, Pennsylvania and was hosted by the Westinghouse Pittsburgh Chapter. To emphasize the theme, sessions were focused on how to achieve better balance in both personal and professional atmospheres.
The workshop kicked off with a panel discussion with various members of Westinghouse leadership, including Westinghouse's new President and CEO Patrick Fragman. It focused on "How Companies Look at Transformation" to provide insight on how Westinghouse is looking at transformation, how participants can succeed in ever-changing work environments, and the importance of nuclear power for industry growth.
Stress Management Consultant Michelle Lynch then taught members about the concept of prescribed breathing utilizing techniques for reducing stress and finding focus.
The workshop then transitioned to Dr. Rita Baranwal, assistant secretary for nuclear energy at the U.S. Department of Energy (DOE). Rita presented on "Nuclear as a Part of a Balanced Energy Portfolio" focusing on future and ongoing initiatives for nuclear energy in the U.S. like Yucca Mountain.
Rita was followed by Amy Bowan from Beaver Valley Power Station, who led a passionate and informative discussion on the impact of nuclear on local communities and provided perspective as to how plant closures can affect those communities.
Over lunch, Julie Shields from House of Colour gave a talk on how our clothes and what we wear can affect how people perceive us. She specializes in helping people "find their colors" to enhance self-confidence. She injected her presentation with humor and enthusiasm, and as a result had most of the audience laughing and enjoying her nontraditional approach.
We closed out the formal part of the workshop with Angela Arrington, leadership coach and trainer. She spoke about "Creating Your Balance for Better" by focusing on work/life alignment, goal authenticity and network balance. She left participants with a challenge to make sure we bring our "best selves" to the table each day.
The afternoon transitioned to a more technical focus with a tour of the AP1000® plant control room simulator at Westinghouse Headquarters. The AP1000 full-scope simulator provides the capability to train plant operators in a replica control room that represents the control consoles, control panels and displays in the plant control rooms.
There was also an Innovation Expo open throughout the workshop focusing on company initiatives for new product innovation and technologies. There was representation from workshop sponsors including Westinghouse, MPR Associates, Naval Nuclear Laboratory and Beaver Valley Power Station.