WiN Global Conference – Call for Proposals
The 2020 WiN Global conference was moved to October 17-21, 2021 due to the COVID-19 pandemic. WiN Canada is continuing to plan for the conference to happen this fall in Niagara Falls, Ontario. They are, of course, monitoring the pandemic and will update interested parties of any changes to the event as the COVID-19 situation becomes clearer.
The theme of the 28th Annual WiN Global Conference is Positively Charged for Success. The conference program offers several ways for your participation. They are: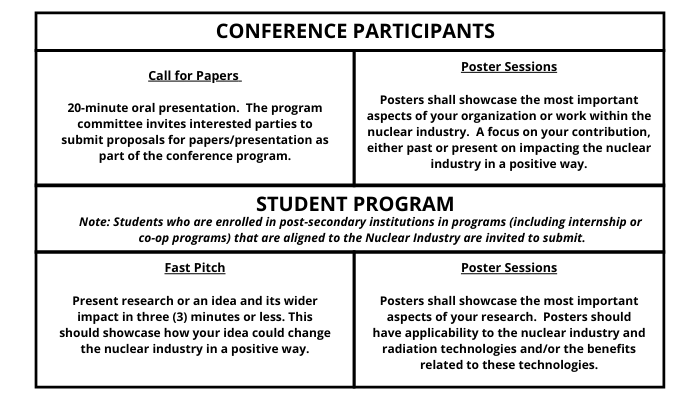 Please note the Fast Pitch submission will be used as part of the Student Application for sponsorship.
If you previously submitted an application for the 2020 conference, you are asked to resubmit your application using the updated link provided below.
Important Dates:
Please note the deadlines and notification of acceptance for all the items above are the same.
Applications Are Due: March 26, 2021
Notice of Acceptance: April 30, 2021
Final Content Due (For Oral Presentations and Poster Sessions: September 17, 2021.
Evaluation of Application:
The Program Committee will evaluate all proposals submitted by the deadline. Proposals will be evaluated in two ways:
Merit and clarity of the 300-word abstract (for oral presentation and poster session) OR merit and clarity of submission (for Fast Pitch); and
Completeness of the proposal, particularly having well-developed content to understand all relevant aspects of the topic.
Proposals may be submitted here.